Deprecated: implode(): Passing glue string after array is deprecated. Swap the parameters in /home/ukhercom/public_html/responsive/top_inc.php on line 45

Deprecated: implode(): Passing glue string after array is deprecated. Swap the parameters in /home/ukhercom/public_html/responsive/top_inc.php on line 46


Latest Fashion Trends
Do you love a fun, boutique look
or a classy, couture element?
David Beckham attends British brand Belstaff's Flagship Store Opening
Leather clad David Beckham and celebrity guests celebrate Belstaff Bond Street flagship store

David Beckham, David Gandy, Jemma Kidd (Mortington), Jodie Kidd and Pixie Lott, celebrated global British luxury lifestyle brand Belstaff's newest flagship store in London, at 131-135 New Bond Street. In line with the brand's heritage and spirit of adventure, the launch was marked with a motorcycle parade down New Bond Street.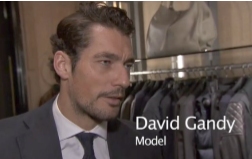 The night also celebrated the announcement of David Beckham as the face of the brand's Spring/Summer 2014 campaign. The British brand started in 1924 in Staffordshire and created the concept of waterproof, waxed outerwear.

David said "It's exciting you know, for myself to be part of such a great brand with such a heritage. "Steve McQueen was one of the first to be part of the Belstaff brand and you know, it fits really well with me, because I ride bikes (he owns 12 at the last count), so it's the right brand for me to be a part of."


Modest as ever, he smiled that smile and went on, "You know I'm nowhere near as cool or good looking as him (Steve McQueen), but er, I'm wearing the same clothes as him…"

The 3,500 square foot boutique opens on the first floor of the 26,000 square foot historical building, appropriately called Belstaff House. Drawing inspiration from Belstaff's unique motorcycle inspired legacy, the decor of the New Bond Street interior is greatly influenced by England's rich architectural and decorative history, including the Georgian, Gothic and Deco periods. With a colour palette consisting of the palest linen grey, slate, black, off-white and silver, the interior entryway will feature original marble columns and antique bronze cage chandeliers.



Belstaff doors open with David Beckham and a motorcycle parade down New Bond Street

---