Deprecated: implode(): Passing glue string after array is deprecated. Swap the parameters in /home/ukhercom/public_html/responsive/top_inc.php on line 45

Deprecated: implode(): Passing glue string after array is deprecated. Swap the parameters in /home/ukhercom/public_html/responsive/top_inc.php on line 46


Latest Fashion Trends
Do you love a fun, boutique look
or a classy, couture element?
TV presenter and ex Atomic Kitten Jenny Frost hits the streets to find out how British women really feel about themselves and gives her ultimate guide to being confident
Bad hair day? Sudden skin break out? Nothing nice to wear? We've all had days when we're not feeling our most confident and research suggests that we're far from alone.

In a recent survey by new Always Ultra, a staggering 57% of British women revealed that they generally lack confidence! But the good news is help is at hand.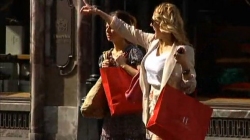 According to the research, over a third of women get their confidence from looking good and there are a whole host of ways to improve your confidence and all it takes is a few little 'feminine touches' – and most of them are quick, easy and a lot of fun!

Jenny Frost has taken to the streets of bustling London to find out the real secret to unleashing our confidence and offers a few simple top tips to ensure your confidence shines throughout the day, no matter what…


So what knocks your confidence girls?

1/ Relationship breakdown - is one of the most cited moral deflators. The end of a special relationship can have a negative affect on how you feel about yourself. However, it has also inspired us to pick ourselves up, dust ourselves down and get a makeover, for a whole new look.

2/ If you're pushed for time when you're getting ready for work or a night out, this can also knock your confidence. Finding yourself feeling below par...so much so that you just won't feel right for the rest of the day.

3/ A blemish or spot outbreak is another confidence zapper - so try to give mother nature a fighting chance and cut back on stodgy, greasy foods and late nights. By drinking more water and eating fresh fruit and veg, you can soon reverse the skin thing and start feeling more positive about your complexion.
How can you increase your confidence? What's the word on the street?
1/ Try setting your alarm clock ten minutes earlier in the mornings and give your beauty regime an extra boost, such as applying mascara before you leave the house. Another tip is to use a little moisturiser mixed with some foundation to give your skin a healthy glow and treat your lips to a touch of lipgloss. Run your straighteners over the top layers of your hair for a quick style fix.
2/ Try and smile more, it will give you a feel good factor and surveys have found that smiling makes you look more confident and attractive. Why not choose a new hairstyle and give yourself something to smile about!
3/ Wear clothes that flatter your figure, don't be a slave to fashion, as not all the latest trends will suit everyone. Standing straight with the appearance of a strong central core, will make you look slimmer and a pair of heels or sassy boots can add extra confidence…
4/ Exercise can give a real boost to your confidence, because you will feel more energetic and toned, while doing something positive to increase your health and regain your mojo!
Go girl.. go….
---